SKILL LEVEL
Intermediate / Advanced
Length
3 Day 2 Night Trip
Activities
Camping, backpacking, (surfing if you are hardcore)
What to Expect
Long stretches of untouched beach

Remote coastline

Rugged wildlife
The Background
The Lost Coast refers to an uninhabited portion of the California Coast located in the King Range National Conservation Area of Humboldt County. The story is that the engineers building Highway 1 could not handle the rocky terrain and elected to bring the highway inland. So once you get off the 101 there's one access road, no towns, no service, no people; BYO everything.
The typical backpacking route is 26 miles hiking North to South. Coming from San Francisco the easiest way to plan for this trip is to drive up and park at Black Sands Beach. From Black Sands you can get a shuttle up the coast to Mattole Campground where the trail starts for your hike down the coast and back to your car.
Need to Know
Shuttle:

We recommend using

Lost Coast Adventures

where our boy Blu Graham runs 4 daily shuttles at 7am, 8am, 12:30pm and 1:30pm. Book online and check out his website for more information on the trail. He knows a ton about the hike and will happily give you all the info on the shuttle ride to Mattole.

Tides:

9-10 miles of the hike are through "Impassable Zones" which are long stretches of beach that you are not able to hike during high tide. High Tides occur twice every 24 hours but they appear at different times throughout the year. Check

the tides here

and plan your trip accordingly.

Permits:

Get your permit here.

We did not see any rangers. 

Bear Canisters: Required, although if doing the hike again we wouldn't bring….
Water: Plenty of streams on the trail. Bring a filter or steripen and you will be fine.
Weather: Can be windy and cold. Bring a windbreaker and an extra layer.
Poison Oak: Lots of poison oak so if you are prone beware.
Backpacks
Good Terrain Shoes
Flip-flops/Tevas/Keens (whatever floats your boat)
JetBoil (such an awesome purchase for boiling hot water in under 2 minutes)
Steripen, Nalgenes
Sunscreen
Mattress pads, Sleeping bags
Inflatable pillows – we have these ones
Day 1: Mattole to Cooksie Creek
We left San Francisco at 6am on Friday morning and arrived at Black Sands Beach parking lot around noon to catch the 12:30pm shuttle to Mattole Campground. The shuttle ride is about 2 to 2.5 hours. On the first day, a good move is to try and knock out 5-6 miles and camp at Cooksie or Randall Creek. Big Flat is where you want to be night 2.
Below is one of the best maps we have seen.
After a mile or so you will run into Windy Point, where the corner is impassable for a hundred yards at high tide. The tide was still up so we ended up hiking around. Hold on tight if you take the longer route over the top. And to avoid hiking in silence later, don't leave your girlfriend unattended during gusts of wind on the edge of the cliffs. *Pro tip*.
Trail flattens out and you pass some abandoned cottages and cross one of many streams flowing into the ocean.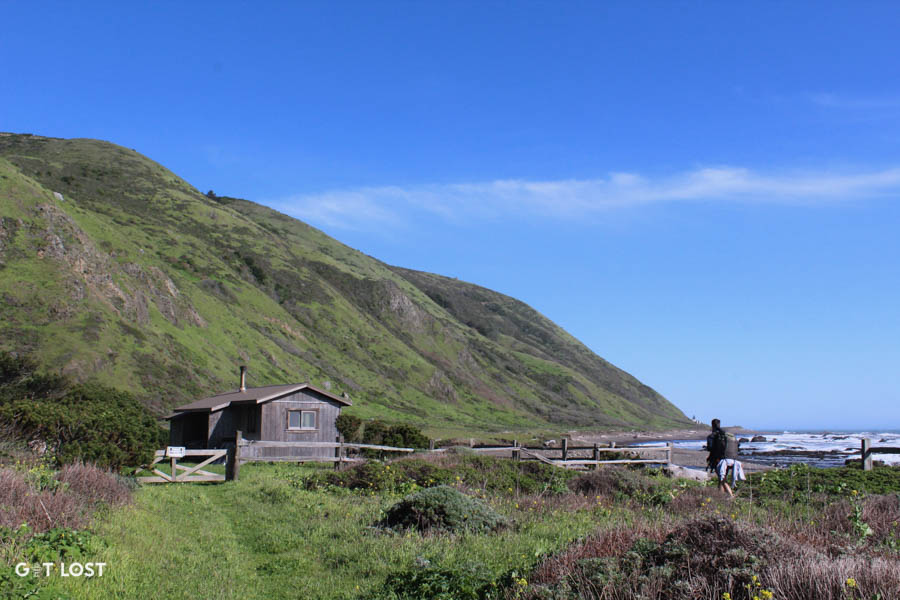 The next point of interest is the Punta Gorda Lighthouse. Great place for a snack.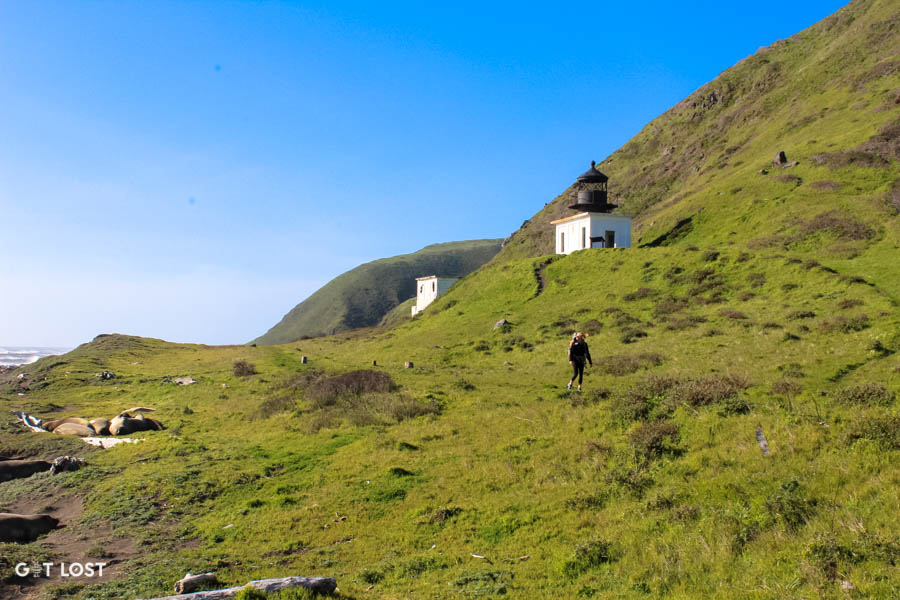 The Punta Gorda locals act like they own the place.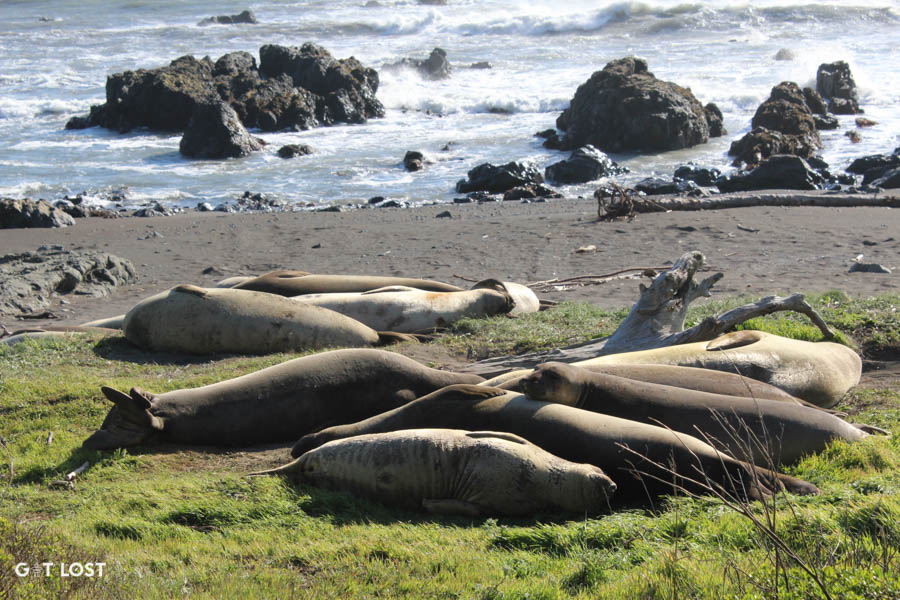 The next few miles are easy living as the trail come off the beach and you cruise along the coast.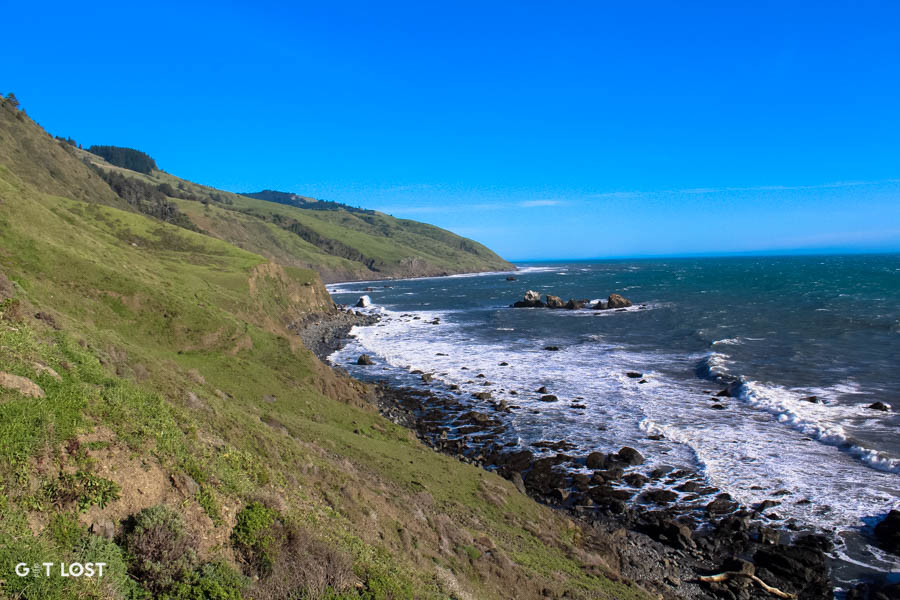 About another mile past the lighthouse you will hear Sea Lion Gulch before you get to it. Also an option to camp here if it's late.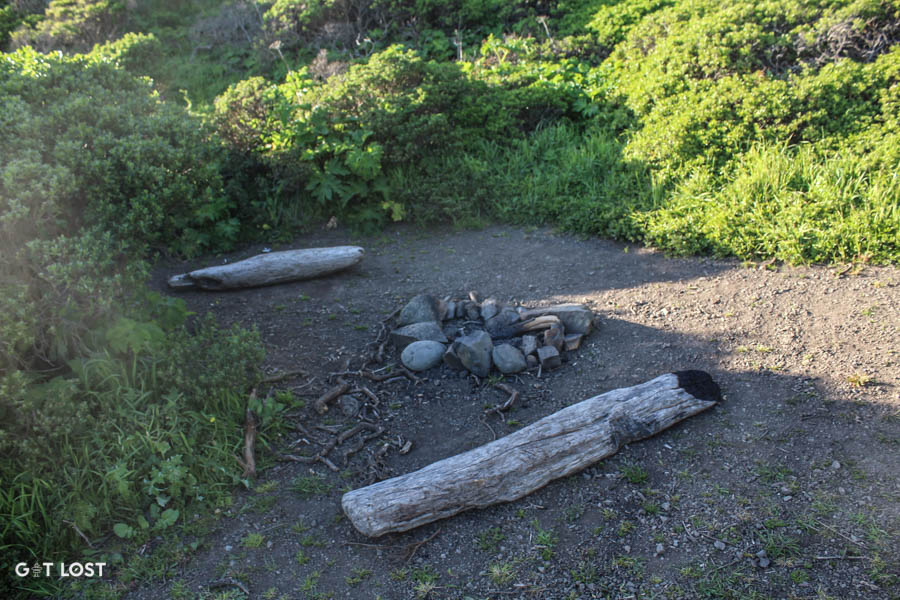 As you enter the first prolonged impassable zone you will have a mile or two of rock scrambling and beach hiking before you make it to your first camp site at Cooksie Creek.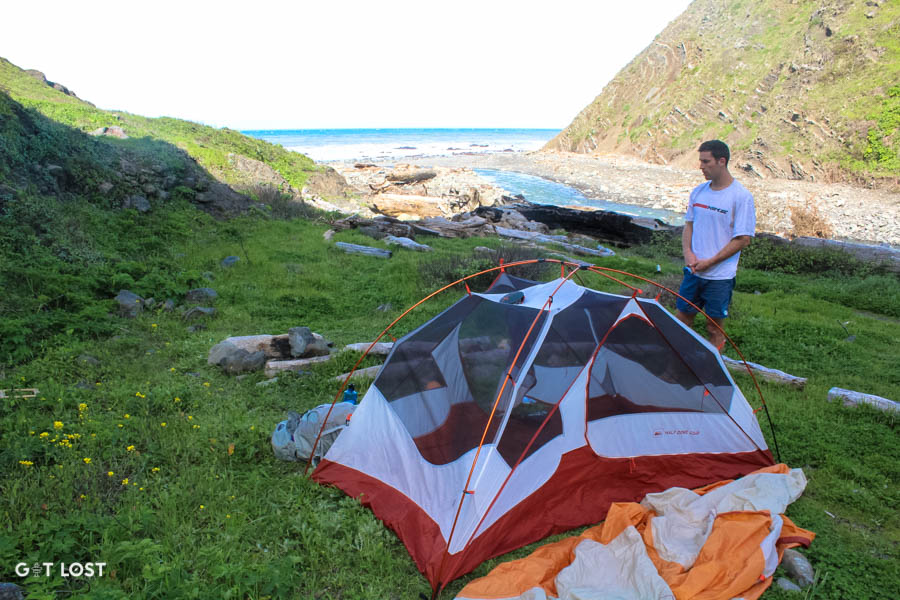 Wonderful valley and great place for a sunset dinner.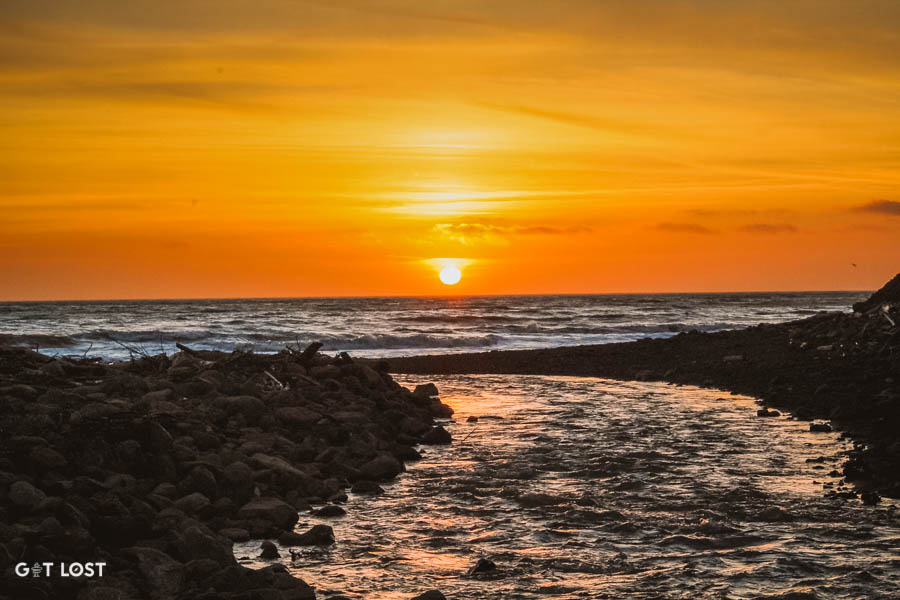 Day 2: Cooksie Creek to Big Flat

Eat breakfast and jetboil some coffee because Day 2 gives the very best our California Coast has to offer.
Make it through the impassable zone in the morning.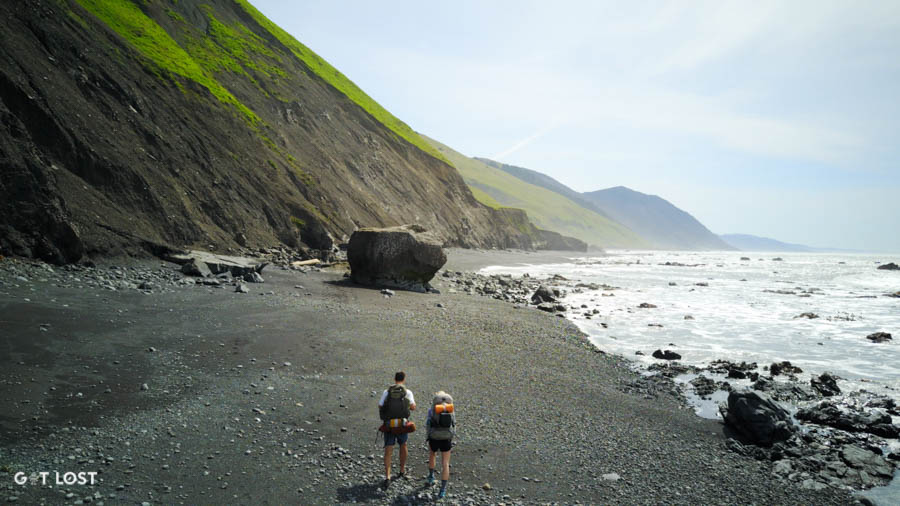 Once you pop out of the impassable zone quickly you are in four miles of rolling coastline, open meadows and wild flowers.
Spanish Creek and Flat was our favorite stretch of the hike!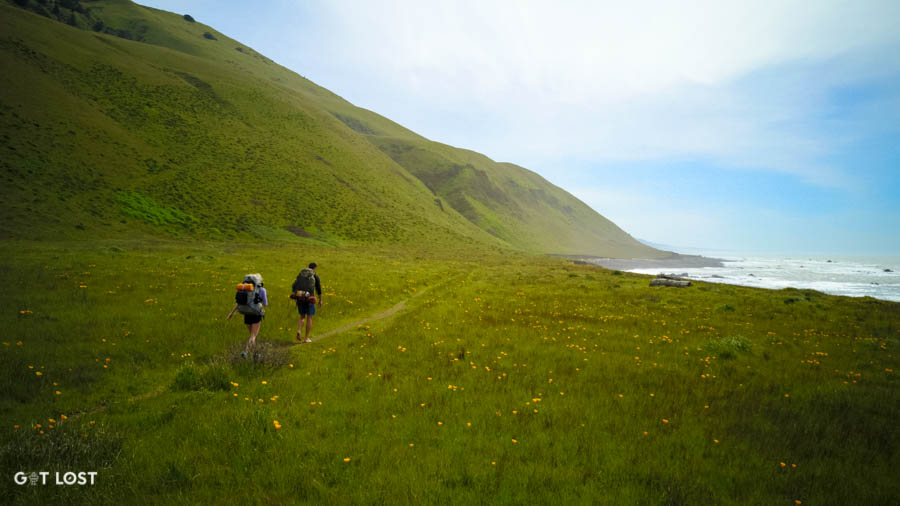 Watch out for snakes! Don't worry we only saw one.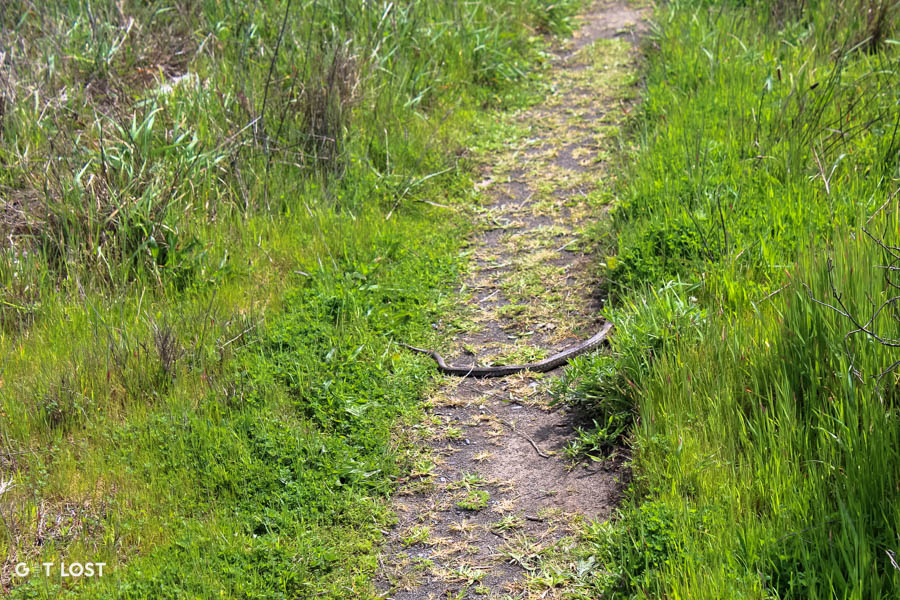 Nap with a view.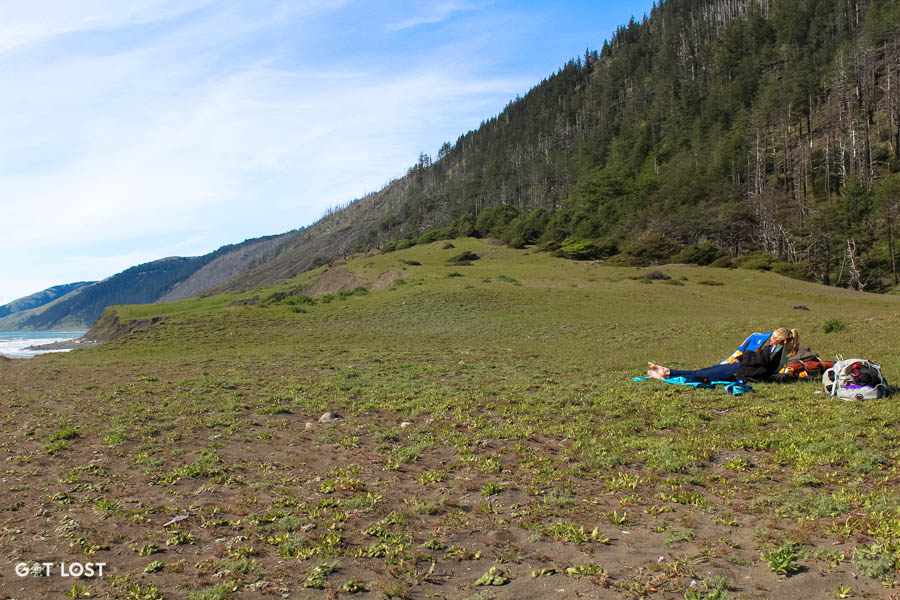 Finish up the last couple miles and make sure to get into Big Flat early to explore. Big flat is a huge open area littered with driftwood structures and cool camp spots. Choose wisely and enjoy an afternoon on the beach!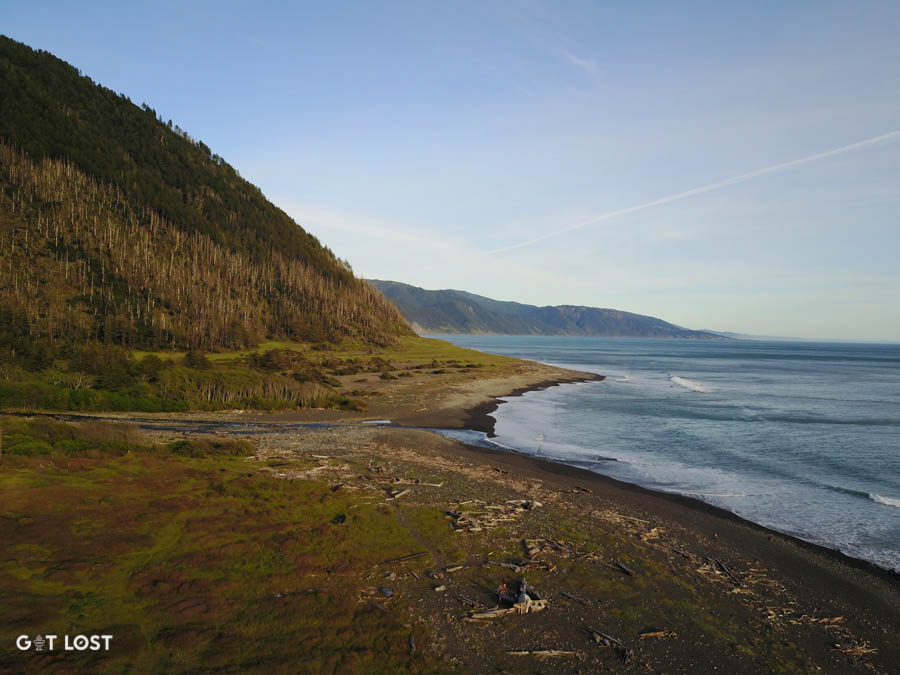 Great remote surf break as well if you want to lug a board out there.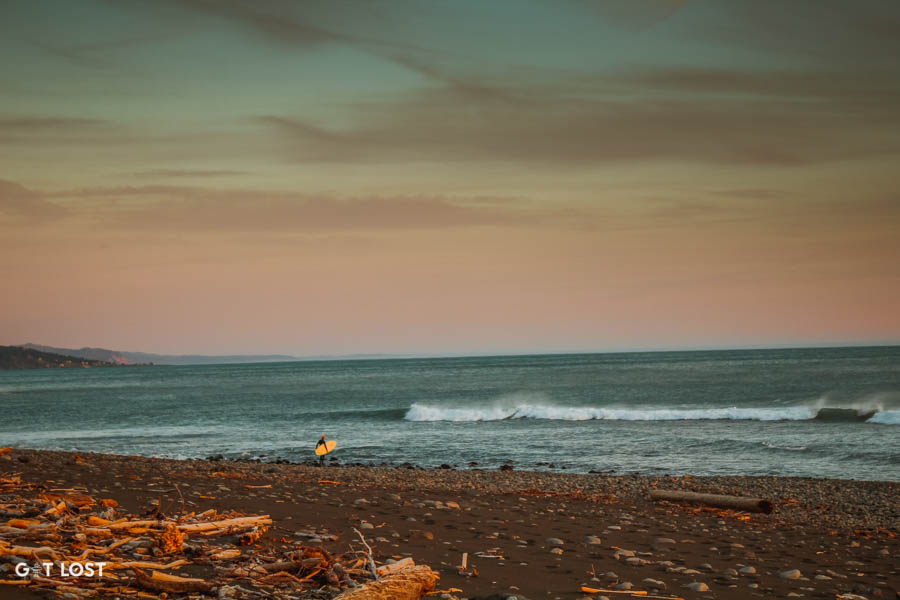 Make sure to contribute towards the architecture. Leave it better than you found it!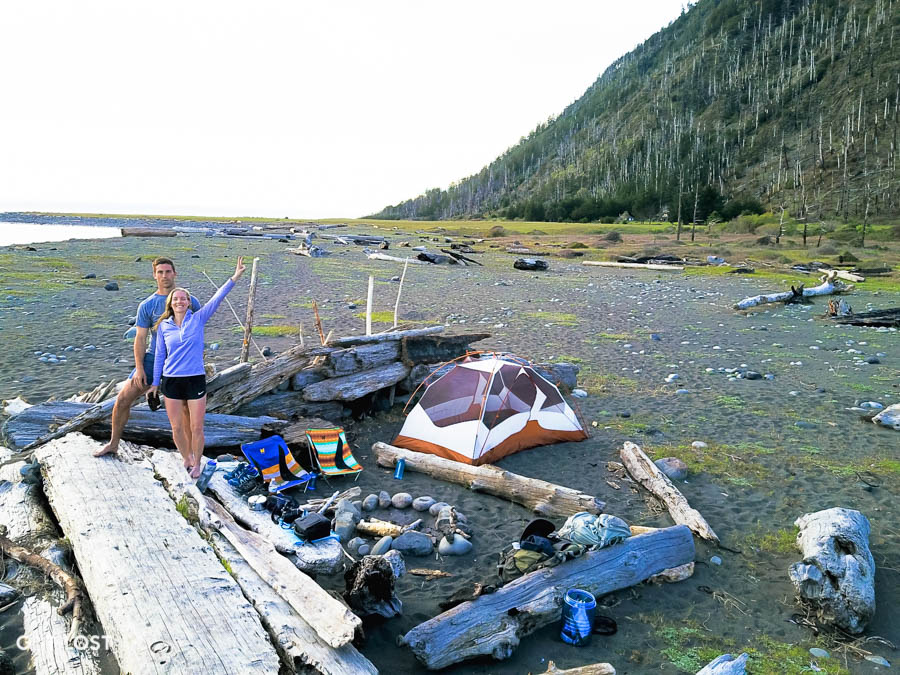 Optional LED lights if you really want to get the party going.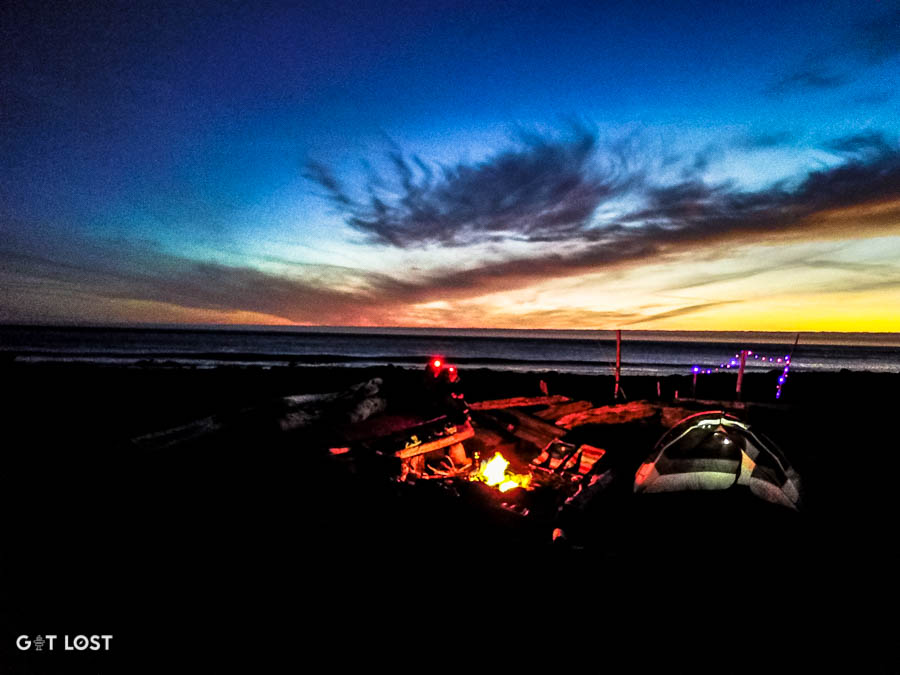 Day 3: Big Flat to Black Sands Beach

Sleep in and enjoy the tranquility of Big Flat because Day 3 is a bit of a challenge. The hike out is a slog through sandy and rocky beach. Be mentally ready for 6-7 miles and four hours to get back to your car. Directions: walk down the beach.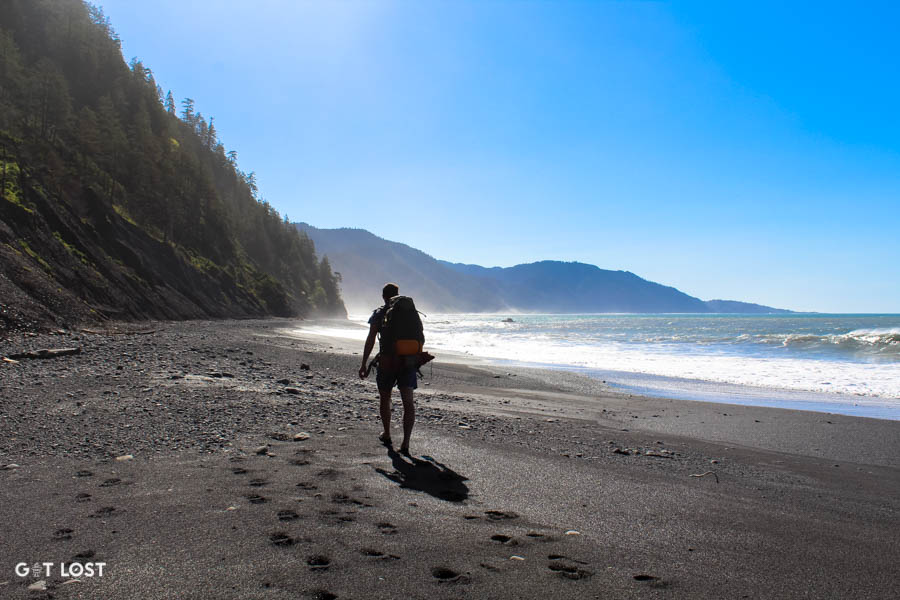 Say goodbye to Big Flat…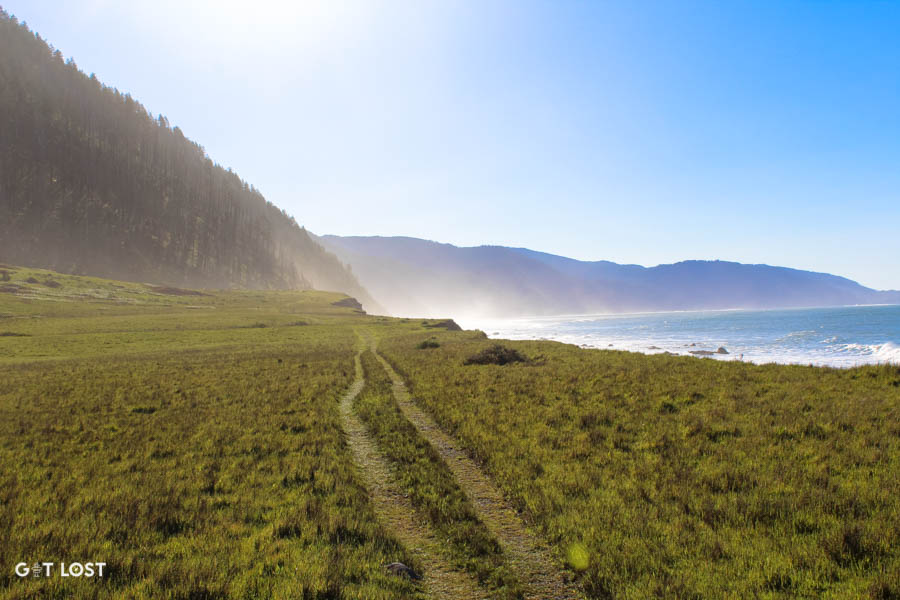 and these rolling hills before you hit the sand for the rest of the way.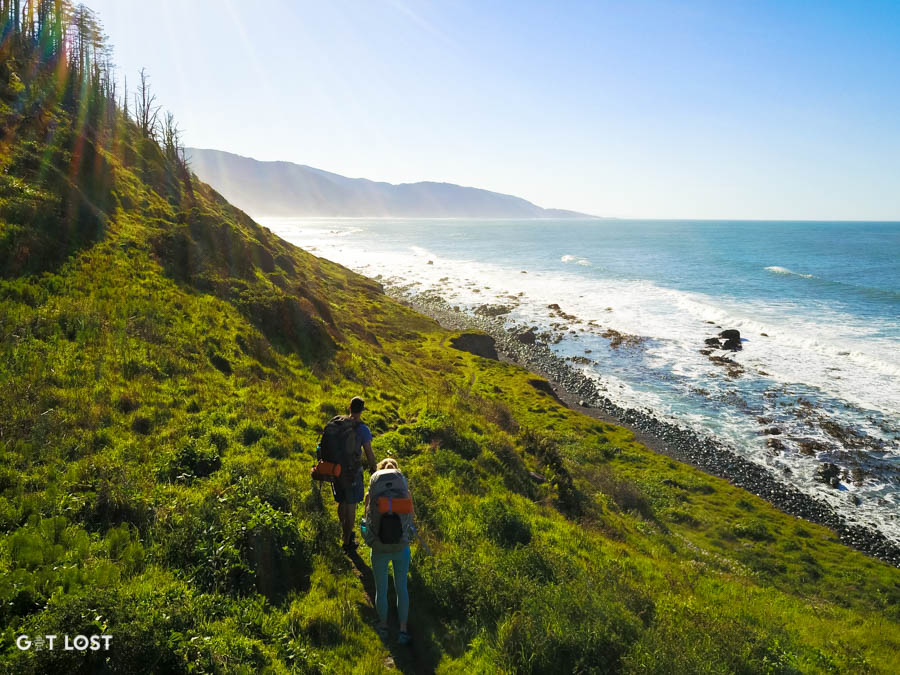 Miles of beach. It feels like it never ends as captured below but almost there!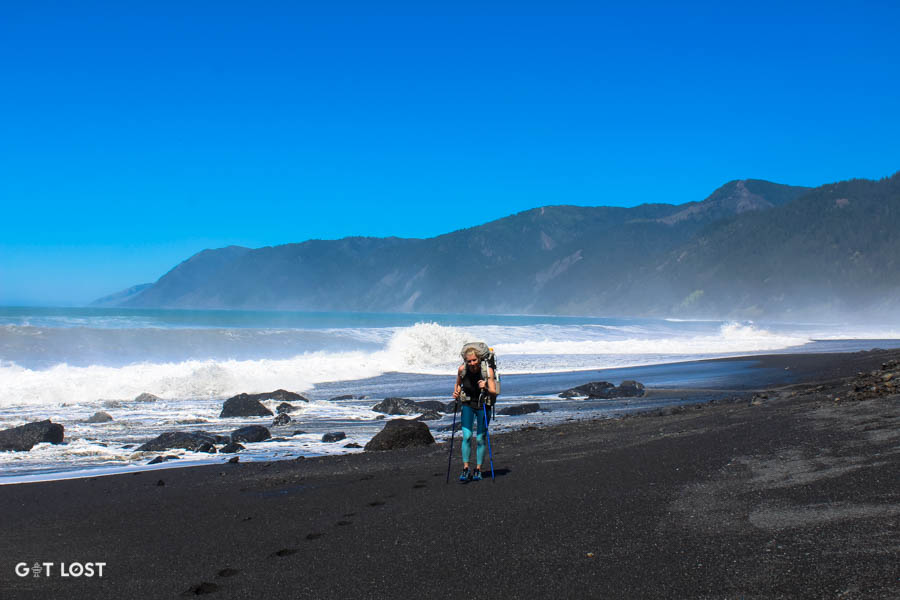 Careful of the big waves.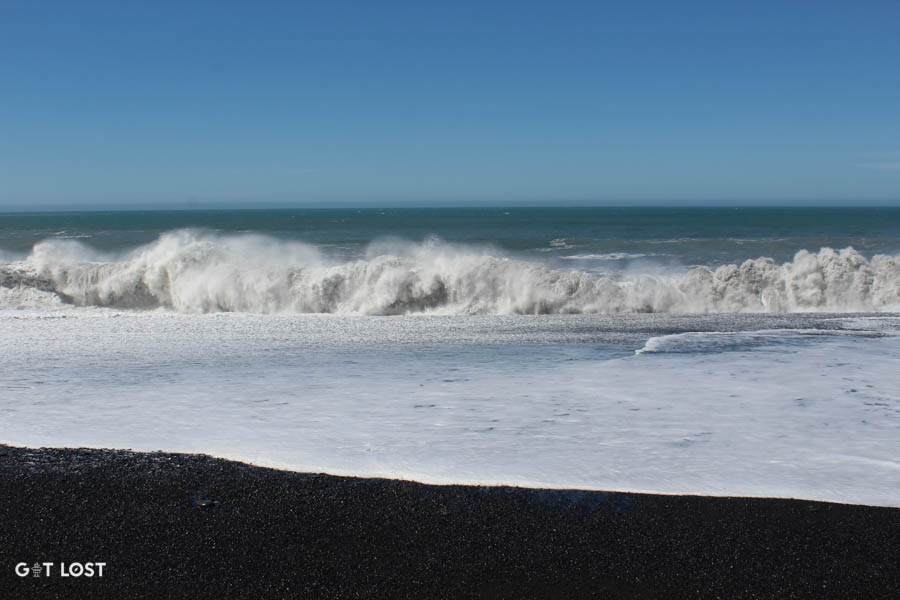 Home sweet home to the Black Sands Beach parking lot.